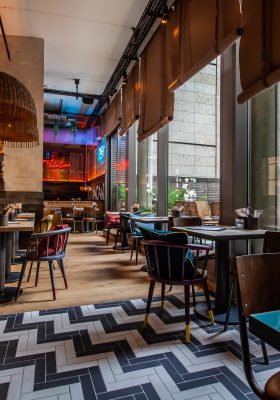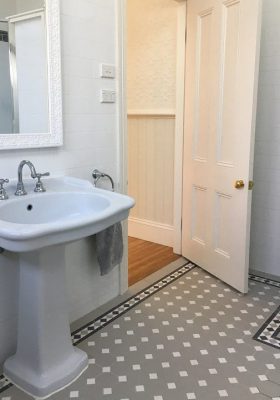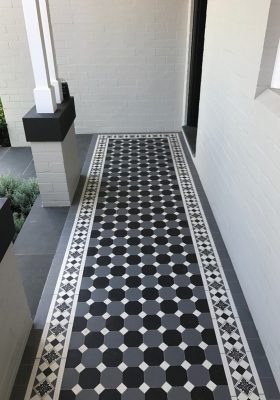 Renditions Tiles has supplied quality tiles for both domestic and commercial jobs since 1983. Our beginnings were a bathroom restoration in Glebe, Sydney and the front cover of a House and Garden Luxury Look Bathroom magazine. This heralded a restoration period with people looking in earnest for tessellated floor tiles, wall tiles and friezes to use in their period homes. So began our campaign to supply as close as possible the copies of the shapes and colours needed for use in Victorian through to pre World War II tiles. Today, the use of tessellated tiles continues to be strong due to their durability and everlasting appeal.
If you are unable to visit our showroom please phone or email your requirements for your particular job. We can lay out your selection of tiles, photograph it and email it back to you along with a quote.
We have over the years done countless commercial jobs, however it is with much satisfaction we can say that thousands of domestic residences have had Renditions tiles installed to create either an authentic restoration or an adaptation of a classical feel, as well as to compliment the many varied and eclectic styles created by homeowners, designers and architects today.
This business is owned by Christina van Nierop and she commenced the business in 1983. Unlike some other supplier claims, she is the only person in the Australian tessellated market who has operated their business continually for over 39 years.
This is a sales oriented company and we like customers and dislike problems so we will not promise what we cannot deliver.
Unlike many of our competitors, we are not tilers trying to advise you on design, we believe selling tiles and laying tiles are two separate functions.  The tilers we recommend are not paid by us and because of that you will get impartial and honest feedback regarding your project.
We have the most sophisticated computer systems of any of our competitors so we know what stock is available and if we are out of stock, when it will be produced and when it will arrive in our warehouse.
TESSELLATED TILES ARE NOT ALL THE SAME!
Those that say they are, are selling inferior tiles.
We are proud of the Italian Porcelain products we sell and can guarantee that our tessellated products are:-
    Manufactured in Italy by CE SI CERAMICA, imported directly by us.
    All our porcelain tiles are genuine vitrified porcelain in manufacture, made with the latest technology and equipment to insure the best possible quality. Porcelain is by far the best product to use for both domestic and commercial applications.
    We only buy and sell 1st quality manufactured products from the one supplier. We have access to these products for Australia and New Zealand.
    We are the only supplier who sells tessellated tiles that are sealed as part of the manufacturing process and do not require further sealing. Some of our competitors make the same claim, but a review of their product manufacturer's website indicate that these products should be sealed after laying to protect the tiles from staining.
    Our tiles have an Australian Certified Slip Rating and have the documentation to support this.
    All our octagons are factory pressed (not a square tile with corners cut off), and we are the joint owner of the manufacturing mould.
    All our 200×200 and 100×100 are factory pressed and pass stringent quality control specifications as you would expect of 1st quality products.
    Our component pieces are precision cut using state of the art Italian cutting machines to ensure consistency in quality, size & shape.
    For specific jobs, some of our patterns can be sheeted to our exacting standards. This type of personalised service has a price premium and a lead time involved.
Our tessellated tiles and 55mm hexagons are 7mm thick for ease of either glue or sand and cement fixing.
There is no other supplier in Australia who can factually match the above combination of product qualities and pass the exacting criteria used in the manufacture of our products. We do claim the best products, the best and most experienced staff with the best supporting systems to deliver you the products you have ordered.